Samsung Galaxy confirms the release date of Galaxy Note 8. Last Thursday, the company officially revealed that the Note 8 will be available for August 23. We have heard a lot of the smartphone design and the specifications. Thanks to the other leaks via internet showing the Note 8 from all sides.
According to the
report
, BGR reported render surfaced about the Note 8 and have details about the smartphone. The leaked factory images showing the not much different from the earlier leaked images. The Note 8 is coming with the dual camera setup. The dual cameraAi??
has
Ai??horizontal direction ad the S8 series have.
The camera sensors are separated and the fingerprint sensors are separated from each other. The smartphone have LED flash light and aAi??heart-rate sensor in the middle of the smartphone bottom. Moreover, from the report, the smartphone is comingAi??
to
Ai??bezel less screen as the Samsung flagship smartphone S8 and S8 Plus have bezel less display.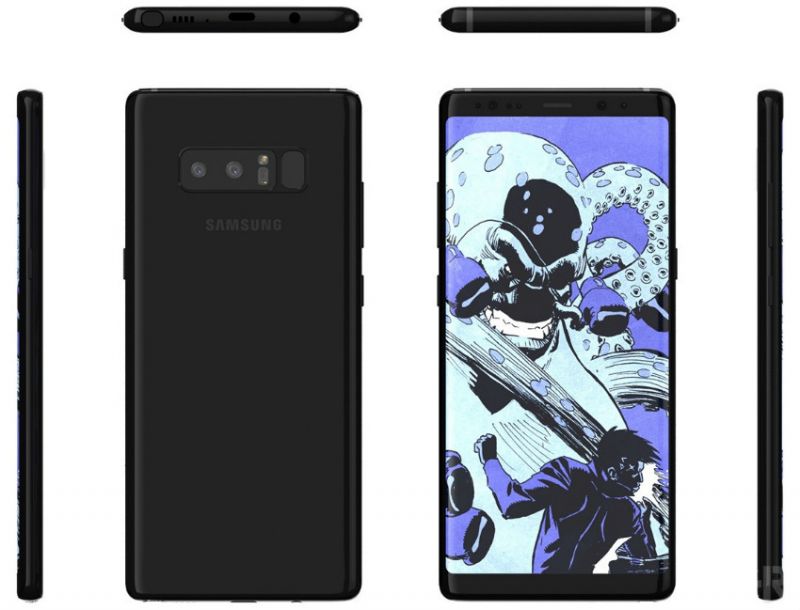 You will see the power button on the right hand side and volume button dedicated to Bixby button is placedAi??
on
Ai??the left hand side of the smartphone.Ai??Major highlights of the Galaxy Note 8 are the infinity display with front-facing camera, iris scanner, LED and a light sensor.
Note 8 will come with 6GB of RAM. The smartphone has a 6.3-inch Infinity Display, powered by snapdragon 835 or Exynos 8895 SoC. The Note 8 is expected to come with 3,300 mAh battery storage capacity. Share your views with us by leaving comments in the comments section given below!